BASKETBALL COURT REPAIR SERVICES
BASKETBALL COURT REPAIR SERVICES
We believe every great city park needs a basketball hoop because it can be used by so many different individuals. Whether you like to play a pick-up game with some friends or like to just shoot hoops, a newly surfaced basketball court by Surface Pro will benefit all those who utilize it. We specialize in courts that a multi-functional so they can be used for tennis, pickleball, basketball, 4 square, hopscotch and whatever else you would like. Call today to find out how affordable it is for you to have a brand new basketball court in your yard or park.
Basketball Court Services
Court Resurfacing

Resurfacing

Court Crack Filling
Court Painting

Tennis Court Maintenance

Tennis Court Inspection
Custom Tennis Court Painting

Pickle Ball Court Resurfacing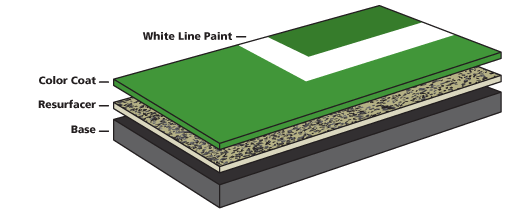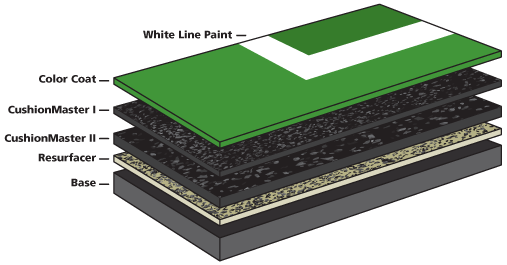 1) Where can I get basketball hoops?
Through our many years of athletic court resurfacing we have established great relationships with vendors of premiere tennis and basketball court supplies. We can offer you competitive prices on all of our hoops and our crews can install your new basketball hoops.
2) Is there any way to repair the cracks without completely resurfacing our tennis court?
Yes, it can for generally little cost. by painting new lines on your tennis court you can easily play pickleball on the same surface. We do suggest, however, that if the tennis court's paint is wearing you have us resurface the entire surface for safety and performance reasons.
3) How do we know if our basketball court surface needs replacement?
If your basketball court is heaving (higher surface in spots of your court creating a tripping hazard) it will most likely need to be replaced. If your Athletic or tennis court is very structurally cracked up it may be time to replace the asphalt surface.
4) What is the process of court resurfacing?
In order of occurrence
Power clean entire surface using high powered blowers.
Pressure wash entire surface using a commercial high powered power washer.
Repair all the surface cracks using a binder and portland mixture.
Repair and patch and low areas to USTA tolerance.
Apply up to two coats of ACR acrylic resurfacer.
Apply two coats of acrylic tennis court paint.
Paint 2″ white USTA regulated lines on court.